August, 1991 – Police removing bodies of two of nine killed in Wat Promkunaram, Thai Buddhist Temple outside Phoenix, Az. One of the victims was Buddhist nun, Foy Sripanpasert. (Photo by Scott Troyanos/The LIFE Images Collection/Getty Images)
By asking the question "Who killed Sister Cathy?," Netflix's true-crime series The Keepers has shone a fresh spotlight not only on a 50-year-old unsolved murder—but on appalling cases of violence against women of the cloth.
It's hard to imagine raising a hand against nuns. Regardless of their specific faith, they take strict vows and spend their lives praying and meditating. Many dedicate themselves to service for children, the sick, the poor, or the needy. Sister Cathy Cesnik, for one, was a 26-year-old Roman Catholic nun teaching in Baltimore when—according to a theory examined by the popular Netflix show—she may have been killed to keep her from revealing sexual abuse by priests.
While rare, the slaying of nuns has a gruesome history. Below, some of the most high-profile cases:
1980 – Toledo, Ohio, USA
Sister Margaret Ann Pahl, 71, a Catholic Sister of Mercy, was found strangled and stabbed to death on April 5th, 1980. The caretaker at the Chapel of the Toledo Mercy Hospital, Sister Margaret was reportedly found covered in an altar cloth with stab wounds in the shape of an inverted cross. The chaplain Roman Catholic priest Gerald Robinson was questioned at the time, but presided at her funeral mass. The case remained unsolved until 2003, when a woman came forward alleging that Father Robinson had sexually molested her when she was a child. This led investigators to re-examine evidence, such as Robinson's letter opener, which prosecutors said could have inflicted the nun's wounds. Robinson was found guilty of homicide on May 11, 2006. He appealed, but died in a Columbus, Ohio, prison hospice on July 4th, 2014. [This case was re-examined in the A&E show Dead Again.]
1980 – San Salvador, El Salvador
On December 2nd, 1980, three American nuns and a Catholic lay worker were taken from their van near the national airport, raped, killed, and buried in the countryside. Sisters Ita Ford, 40, and Maura Clarke, 49, (both Maryknoll nuns), and Dorothy Kazel, 40 (an Ursuline), as well as missionary volunteer Jean Donovan, 27 had been attending a conference in Nicaragua. (Jean and Dorothy collected the other two from the airport.) The churchwomen were working with the rural poor, which, according to the American Ambassador at the time, marked them as being allied with subversives in the eyes of the Salvadoran military. It also marked them for execution, he told the Retro Report news organization. Five low-level National Guard troopers were convicted of the murders. They said they had done so on orders from their superiors. Years later, the U.N. Commission for Truth in El Salvador concluded that two generals, who had since retired to Florida, were culpable for the murders. In 2004, deportation proceedings were begun. After decades of countersuits, both retired generals were forced to leave the U.S.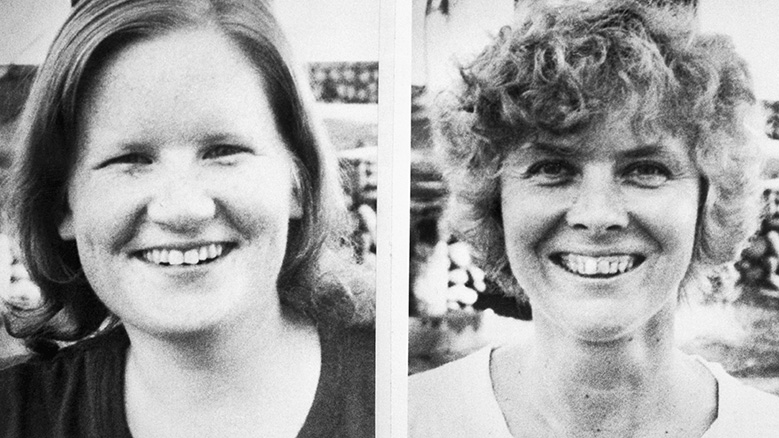 Two of the four American Catholic missionaries slain in El Salvador are shown in undated file photos. Slain were lay missionary Jean Donovan, 27 (L), and Sister Dorothy Kazel, 40 (R), an Ursuline nun. Also slain were two Maryknoll nuns, Sisters Ita Ford, 40, and Maura Clarke, 46.
1992 – Kottayam, India
On March 27th, 1992, Sister Abhaya, 18, of the St. Pius X convent in Kottayam (part of the St. Thomas Christian community in the state of Kerala) awoke to begin her studies. Later that day, her body was found in the convent's well. Suicide was advanced as a theory, but suspicious injuries on the body forced the investigation onward. In 2009, two priests and a nun who lived in the same convent at the time were charged with murder and destruction of evidence. There were allegations that the three had been involved and were stumbled upon by Sister Abhaya. 25 years later, the investigation is ongoing.
1991 – Waddell, Arizona, US
An elderly Buddhist nun, Foy Sripanpasert, was one of nine people killed on August 9th, 1991, in the Wat Promkunaram temple. Their bodies were found the next day and included the abbot, priests, a novice monk, and a temple employee. In 1994, two teenagers — 17-year-old Jonathan Doody and 16-year-old Allessandro Garcia — were said to have gone to the temple to rob it. Garcia claimed Doody panicked, thinking he had been recognized, and shot all the victims in the head with a rifle. Both men were convicted in 1994 (Doody by a jury and Garcia via a plea deal). Doody's conviction was later overturned. A second trial, in 2013, resulted in mistrial. The third trial found Doody guilty on all counts (in 2014) and sentenced him to 281 years in prison.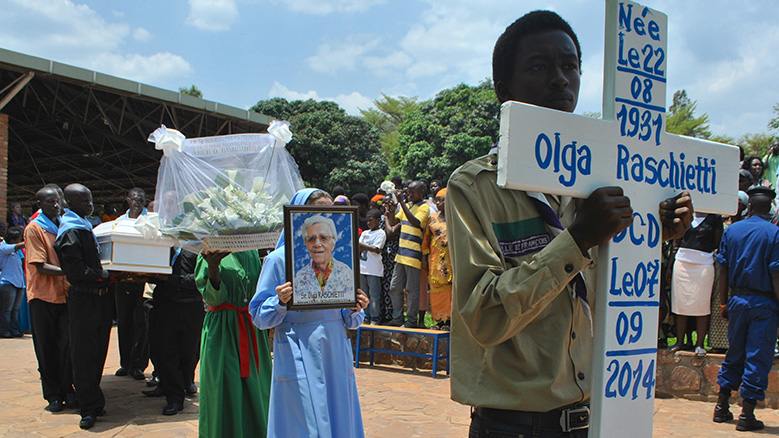 Hundreds of people attend the funeral ceremony of three Italian nuns, found dead inside a parish in a southern suburb of capital Bujumbura, at Sanctuaire Mont Sion Gikungu in Bujumbura, Burundi on September 10, 2014. (Photo by Ndabashinze Renovat/Anadolu Agency/Getty Images)
2014 – Bujumbura, Burundi
Sister Bernadetta Boggian, 79, of the Xavierian Order, and a priest living nearby reported the murders of two of their colleagues. Sister Lucia Pulici, 82, and Sister Olga Raschietti, 75, were found in pools of blood on the floor of their convent in Bujumbura. Sister Lucia's throat had been cut and Sister Olga's head had been smashed with a rock, and they had both been raped. That night, Sister Bernadetta was found dead in her room, raped, beaten, and decapitated. The mission worked to provide support for women and children victims of domestic violence and the mentally ill, which may have provided a motive for revenge. A local man was arrested and charged with the killings, but controversy swirled for years over the true identity of the killer(s). The three nuns had spent 50 years working in the conflict-ridden Democratic Republic of Congo. They had moved to Burundi expecting a more peaceful post.
2016 – Bukavu, Democratic Republic of Congo
On December 2nd, Franciscan Sister Marie-Claire Kahambu was killed in her office at a girls' training center she ran. She was savagely stabbed and some money was stolen. Two men were apprehended and charged with the murder. In Bukavu, where Sr. Marie-Claire was killed, several Daughters of the Resurrection were reportedly killed, prompting the closure of some of the group's convents.
2016 – Durant, Mississippi, U.S.
Sister Margaret Held, 68 (School Sisters of St. Francis), and Sister Paula Merrill, 68 (Sisters Charity of Nazareth), were found stabbed to death in their rural Durant, Mississippi, home when they didn't show up for work August 25th at the nearby clinic where they provided medical care for children and adults, many of them poor or uninsured. Rodney Earl Sanders, 46, confessed to the murders and awaits trial on two counts of capital murder. The Sisters of Charity of Nazareth and School Sisters of St. Francis released a statement asking that the killer's life be spared, as they have long worked to abolish the death penalty.
A&E's True Crime gets closer to the people and the stories behind the crime headlines.